Back Again! ( Remember when Michael used to start every podcast episode with that line? TBT. )  After my outfit post last summer, Lauryn convinced me that I should do another, so here we go!
Although my outfits in my Saint Tropez post were fitting for the moment, I feel like this fall was a season of change for me. I cut my hair into a lob , I also figured out what drives me: movement, aka travel.
So I took some trips!
And lastly, but most importantly, I stepped up my style game. I feel like…I'm like…. realizing stuff. By stuff I mean that I mostly like to wear white or black shirts, and that sweatpants can be worn in a formal setting. Yay for this trend, can we keep it for a while?
I would describe my style as: pretending I just rolled out of bed and threw on a comfortable low-key look, when in reality I have been thinking about it for weeks & also got a spray tan for it.
OK so when I got these mom jeans I honestly hated them. I was a die-hard skinny jean girl and felt like I just couldn't pull off the mom jean look because once when I was little someone told me that baggy jeans weren't hot.
But I am the worst at returning stuff so I put these jeans in a drawer where they lived for a long time. Recently when I pulled them out I realized that someone had lied. Mom jeans make me feel tiny because they hug my waist, pull my butt up, and fit loosely on my thighs.
I have this weird thing where I almost always tuck my shirt into my pants ( I can't be the only one, you do this too, right? ) so naturally bodysuits have a special place in my heart.
Now if we're really getting crazy, I'll wear a turtleneck bodysuit like this one because turtlenecks make me feel mature and sophisticated ( something I strive for because I am younger than everyone I work with: forever the youngest ). 
Also these velvet pumps are s'cute, I love a good red moment & this red pairs well with my typically neutral outfits. They have a slightly grippy heel for maximum stability when dancing & they're sulfate free 😉
Mom Jeans | Turtleneck | Red Velvet pumps
Full disclosure:
1.) I don't listen to Metallica. The only song I know by them is Nothing Else Matters because Lauryn & Michael had their first dance to it at their wedding.
2.) I did indeed steal this sweatshirt from Lauryn & I will not be giving it back.
Every time I wear this sweatshirt some old man crows at me asking if I love Metallica then scoffs when I say "no", and says something along the lines of  "nice Landsend sweatshirt, my grandpa had one just like it".  LET ME LIVE.
My beloved sweatshirt and I have been all over the world this year. We went to London & Copenhagen over Thanksgiving. It was uncomfortably cold and wet there ( even the locals said so! ). My sweater tried its best to comfort me in the cold, but I just wanted more, so I threw a warm puffer over it and about 200 layers under too.
I noticed all the hot guys in Park City only wear graphic sweatshirts when snowboarding & this year I wanted to be cool too. SO I wore my fave Metallica sweater with my ski jumper ( who wore it better, me or Lauryn? ).
sweatshirt | boots | jacket | scarf | gloves | backpack 
I've been working for TSC for 5 years ( #proudmoment ) as Lauryn's assistant/right-hand/babysitter/Michael's second wife, and I've learned & experienced a lot over the years.
For example: how to open champagne, ALWAYS have a charged external battery on hand, that I'll do anything but wake Lauryn up in the morning ( actual footage of me trying to wake her up ) , GG crackers are a must, & that no one drinks enough water.
Thus enter the greatest, life-changing purchase I ever made: a backpack. Simple enough. I see other girls with them but I never knew how much I needed this.
The days of having my hands so full I drop my lunch ( or phone ) onto the pavement are OVER.
Now I carry this backpack everywhere.
Even when I carry a handbag, this is on my back 100%. It's basically my right hand. When my hands are free I can multi-task which is essential to my lively hood/ mental health. This backpack is the perfect size for all of my stuff AND Lauryn's stuff ( should I do a post on my TSC assistant survival kit that I always keep in my bag? ).
Fun fact: I always put the straps the tightest they can go so that the backpack doesn't hang over my ass, duh.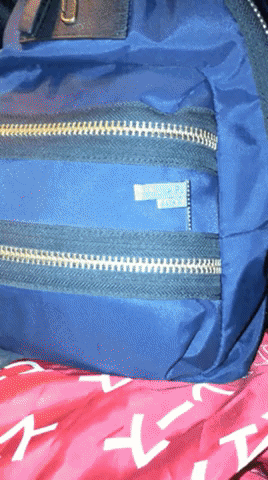 Michael has passed onto me this trait where when we like something, we buy 2, in every color. You know, kind of Steve Jobs-esque. It's nice to get up and not have to think too much about what I'm going to wear. It's almost like a uniform ( I always envied private school for their uniforms but I know they envied us because we got to wear short-shorts and go off campus to lunch everyday. Public school perks ).
Enter my sweatpants obsession and Michael's possession of 25 of the same black t-shirt. I'm not kidding, I have these exact pants in every color. When I wear these I channel my inner Sporty Spice. Usually I'll wear a crop top with a Calvin Klein bra under ( another item in which I own in almost every color) or just a Calvin Klein bra and a bomber if I'm feeling extra Spice-y.
Something I hear a lot: "You're going to wear sweatpants to dinner?", ya mom I wear sweatpants to dinner let me live & get a hobby.
To complete my self-proclaimed uniform: sneakers of course!
The most useful thing Michael has ever done for me was to tell me a story about a guy trying to run away from a fight wearing sandals. Imagine the horror of trying run away in sandals: you're on gravel or trying to run up some stairs & with each step making that clack-clack noise.
Long story short, I like to wear shoes that I can do activities in. Sometimes I like to dance around in the grocery store ( catch me at Trader Joe's with my Beats on, in my own world ) or maybe I need to climb up on a ledge to get the perfect angle for Instagram, who knows.
Each day brings a new opportunity to not wear sandals.
top  | jacket  | socks  | bodysuit
I used to rep Vans when I was little but they were the slip on Vans, remember those?! I usually went for the bright pink checkered style.
Now that I am grown I wear the classic vans. Vans are my fave because I run into boys wearing the same shoes, then ya know, homeboy gonna like… get it. 
Sneakers with a dress or with cropped jeans: is there anything better? Bonus if you have a small foot you 'cause you can buy kids shoes, like Moi. Do they make Loubs in children's size? I'm in the market for some.
Alright, alright, alright.
Thanks for reading. I hope you are as into the rolling out of bed ( AJA hours of getting ready ) fashion vibe as I am. Also- send over some suggestions of new brands/sites/stores for me to check out ( or sneakers if you want to make me really happy ) 
Follow me on Instagram & check out my stories where I capture The Skinny Confidential EXPOSED.
xx Mimi 
FASHION BY MIMI